Discover more from Gold Weekly
A brief summary of the most important gold news and analysis every week.
Over 1,000 subscribers
Gold News: 9 October, 2020
Gold Price: $1,909.45. Forecasts: how gold prices could exceed $10,000. News: The bullish case for gold, 2020 ETF inflows set new record, Venezuela gold update, Kalgoorlie gold nugget.
Gold and gold-backed cryptocurrency news for the week ending 9 October, 2020.
Gold Price (USD/OZ)
9 October 2020: $1,909.45 [View live gold price.]
Change from last week: $0.12 (0.006%)
View the complete archive of gold price forecasts.
Buy Gold In Switzerland

Global Gold is precious metals company from Switzerland that offer a safe and convenient way of buying and selling gold, silver, platinum and palladium. All metals can be safely delivered or securely stored in high-security vaults of your choice in Switzerland, Singapore, Hong Kong, and New Zealand. [Goldscape.net Partner]
Gold News
Gold plunge: normal and healthy - [BullionVault]
Gold forecast – how gold prices could exceed $10,000 - [FX Empire]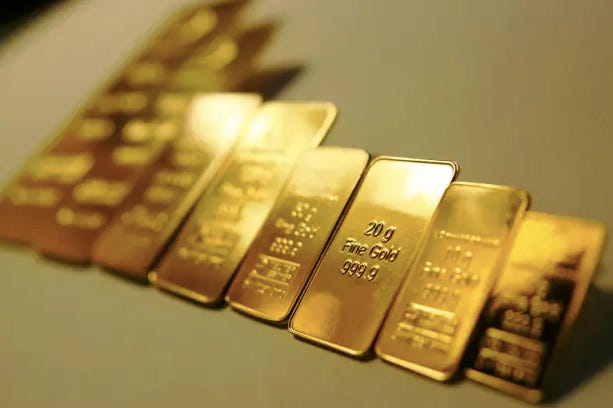 This driver could 'propel' gold price back to its new all-time highs - Bloomberg Intelligence - [Kitco]
Gold plummets after Trump announces intention to pass on fiscal stimulus bill - [FX Street]
Gold could rise by 30% over the next year - [Seeking Alpha]
Gold price: 2020 ETF inflows set new record - [Mining]
Maduro wins chance of new ruling over billions in gold held in U.K. - [NY Times]
"President Nicolás Maduro of Venezuela has been trying since 2018 to gain access to bullion deposited at the Bank of England, running into a dispute over whether Britain considers him the country's leader."
Billions in bullion shifted ahead of Dutch bank rebuild - [ABC News]
"The Netherlands' central bank has moved its Dutch-based stock of gold from its headquarters in Amsterdam to a safe in the nearby city of Haarlem."
Gold mining stocks are a buy ahead of the U.S. election, strategist says - [CNBC]
The increasingly bullish case for gold - [Oilprice]
Australian gold miners merge to create $16b giant - [The Sydney Morning Herald]
Prospector in Kalgoorlie finds rare gold nugget that could fetch up to $30,000 - [7News]
Gold-backed Cryptocurrency News

News related to gold-backed cryptocurrencies:
Aurus disrupts the gold industry – today its ecosystem lists at a value of $75m - [Bitcoin]
Why gold-backed crypto makes a better stablecoin in a recession - [CryptoDaily]
---
Gold News by Goldscape.net is a weekly newsletter for gold and gold-backed cryptocurrency news.
Visit Goldscape.net to buy gold online.
For advertising and news submission requests, contact us.
If someone sent this to you, sign up for free updates at goldnews.substack.com.