Gold News: 8 May, 2020
Gold Price: $1719.42. Gold has potential to break $1,800 an ounce, on track to breach $1,900.
Gold and gold-backed cryptocurrency news for the week ending 8 May, 2020.
Gold Price (USD/OZ)
8 May 2020: $1719.42 [View live gold price.]
Change from last week: $42.52 (2.54%)
Gold News Around The Web
Gold Investing soaks up virus crisis' surplus bullion – [BullionVault]
Here's what gold does when the U.S. government goes on a borrowing binge – [Market Watch]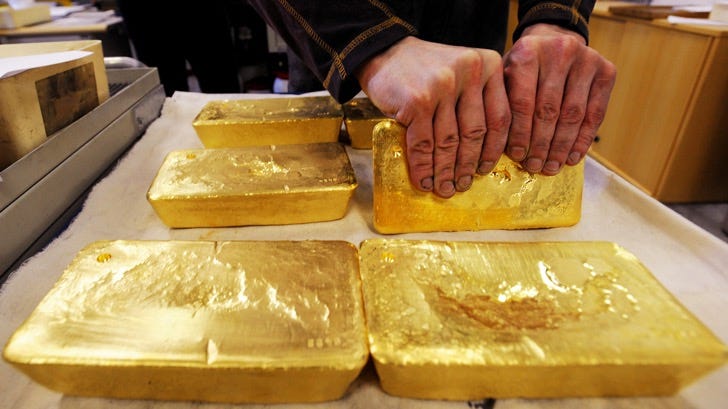 Gold price prediction – Gold surges and poised to break out as US yield decline – [FX Empire]
Gold bars fight covid kits for space on the plane – [Bloomberg]
Gold has 'growing potential' to break $1,800 an ounce, says UBS – [CNBC]
Central-bank gold selling 'limited' but holdings could be used as collateral: Standard Chartered – [Kitco]
Gold: On track to breach $1900 mark – Bloomberg Intelligence – [FX Street]
More bulls weigh in on the gold run; here's where they reckon it will go in the short-term – [Stockhead]
How much gold are the Swiss hoarding? – [finews]
Advertisement

Global Gold is precious metals company from Switzerland that offer a safe and convenient way of buying and selling gold, silver, platinum and palladium. All metals can be safely delivered or securely stored in high-security vaults of your choice in Switzerland, Singapore, Hong Kong, and New Zealand.
Gold-backed Crypto News
News related to gold-backed cryptocurrencies:
Interest in gold-backed token trading grows amid supply disruptions – [Coindesk]
Africa: COVID-19, gold demand and the gold-backed stablecoin opportunity – [Coin Telegraph]
New Zealand Financial Markets Authority adds Karatbar International GmbH, Karabit Foundation, & associated companies to warning list – [Crowdfund Insider]
CACHE partners with Onchain Custodian to insure and secure gold-backed tokens – [hedgeweek]
---
Gold News by Goldscape.net is a weekly newsletter for gold and gold-backed cryptocurrency news.
Visit Goldscape.net to buy gold online.
For advertising and news submission requests, contact us.
If someone sent this to you, you can sign up for free at goldnews.substack.com.