Discover more from Gold Weekly
A brief summary of the most important gold news and analysis every week.
Over 1,000 subscribers
Gold News: 5 June, 2020
Gold Price: $1709.00. Gold to set a record high in the next months, record first-time buyers, China may have over 10,000 tons of gold.
Gold and gold-backed cryptocurrency news for the week ending 5 June, 2020.
Gold Price (USD/OZ)
5 June 2020: $1709.00 [View live gold price.]
Change from last week: -$20.57 (-1.19%)
Gold News Around The Web
Covid crisis spurs record gold and silver investing from record first-timers - [BullionVault]
"Record demand, record numbers of first-time gold and silver investors..."
China may have over 10,000 tons of gold and the U.S. has less than 8,100 tons - [GoldCore]
Calm before 'perfect storm'; gold prices to breach all-time high by year-end - [Kitco]
Gold to set a record high in the next months – ANZ - [FX Street]
"Strategists at ANZ Bank expect gold to hit a record high in the second half of 2020 due to a challenging economic environment though, an increase in risk appetite has been a strengthening headwind for the yellow metal."
China reduces paperwork for gold exporters - [Voice of America]
Commentary: Why some countries rushed to buy gold before coronavirus crash - [Channel News Asia]
"Countries have been buying gold and repatriating it from overseas storage to an extent never seen in modern times, says an observer."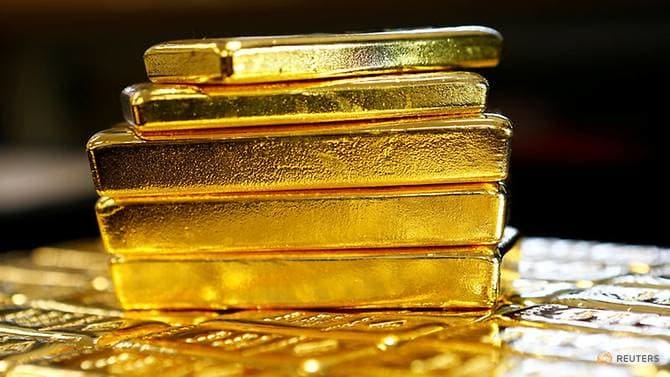 The secret behind gold's stunning surge - [Yahoo! Finance]
Australia's gold production down - [Mining Journal]
"Australia's gold production fell by 12% in the March quarter, according to industry data compiled by Surbiton Associates."
Just how much gold is left in the centuries-old Yilgarn? - [Stockhead]
"The Yilgarn Craton, a large mineral-rich region around 400km east of Perth in WA, has spawned numerous major mines over the past few centuries and is sometimes described as "Australia's premier gold and nickel province". Evidence suggests there's many more discoveries to come."
Is this US Sen. Tom Cotton sitting on a pile of gold? - [Snopes]
"The photograph appears to be real, but the caption tells a different story."
UAE's leading gold retailers shut down stores, delay re-opening as they await rent relief - [Gulf News]
"Jewellery sector has been worst hit by COVID-19 induced drop in shoppers."
This 26-year-old entrepreneur built gold buying and recycling platform, raked Rs 83 Cr turnover within 3 years - [Your Story]
"Helping people in the time of need, White Gold aims to be the largest organised gold buying and gold recycling company in the country. The company has a network of over 50 branches in Karnataka and Kerala."
Advertisement

Global Gold is precious metals company from Switzerland that offer a safe and convenient way of buying and selling gold, silver, platinum and palladium. All metals can be safely delivered or securely stored in high-security vaults of your choice in Switzerland, Singapore, Hong Kong, and New Zealand.
Gold-backed Crypto News
News related to gold-backed cryptocurrencies:
Jon Deane: CEO at InfiniGold talks about benefits of gold backed stablecoins and why premiums for physical gold increased - [Crowdfund Insider]
---
Gold News by Goldscape.net is a weekly newsletter for gold and gold-backed cryptocurrency news.
Visit Goldscape.net to buy gold online.
For advertising and news submission requests, contact us.
If someone sent this to you, you can sign up for free at goldnews.substack.com.