Discover more from Gold Weekly
A brief summary of the most important gold news and analysis every week.
Over 1,000 subscribers
Gold News: 4 September, 2020
Gold Price: $1934.00. Forecasts: $2,200. News: Record demand to invest in gold, Turkey, Qatar, India and Kazakhstan boost gold holdings, buying gold with Bitcoin.
Gold and gold-backed cryptocurrency news for the week ending 4 September, 2020.
Gold Price (USD/OZ)
4 September 2020: $1934.00 [View live gold price.]
Change from last week: -$12.34 (-0.63%)
View the complete archive of gold price forecasts.
Buy Gold In Switzerland

Global Gold is precious metals company from Switzerland that offer a safe and convenient way of buying and selling gold, silver, platinum and palladium. All metals can be safely delivered or securely stored in high-security vaults of your choice in Switzerland, Singapore, Hong Kong, and New Zealand. [Goldscape.net Partner]
Gold News
Record demand to invest in gold, silver, platinum nears half-billion dollars amid Covid crisis - [BullionVault]
What is the correlation between inflation and gold? - [Vaultoro]
Turkey, Qatar, India and Kazakhstan boost gold holdings – WGC - [FX Street]
The final straw that will push gold to $2,200 or more by year-end - [Kitco]
Gold is a terrible predictor of inflation, BOE's Vlieghe says - [Bloomberg]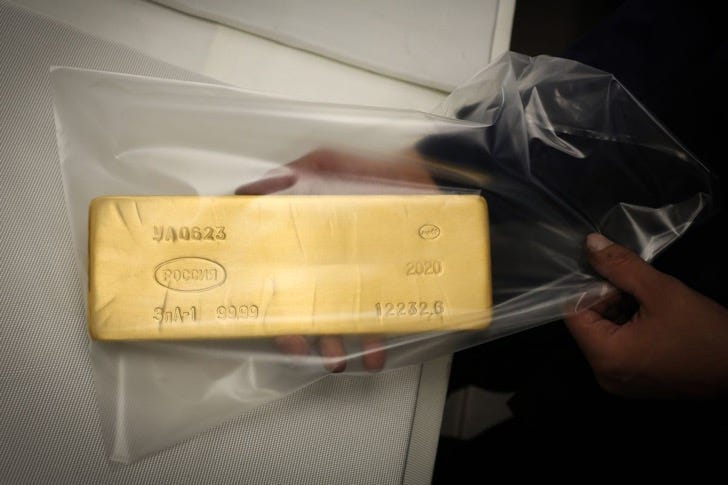 Value of Venezuelan gold withheld by Bank of England likely double amount reported - [The Canary]
Gold is the most stable currency in the long-term - [Yahoo! Finance]
Major miners are running out of gold, and that's good news for explorers - [Stockhead]
Where will the world's next giant gold discovery be made? - [OilPrice]
High gold prices spur more illegal mining in Peru - [SWI]
DRI seizes 504 smuggled gold bars worth Rs 42 crore from New Delhi Railway Station; 8 arrested - [Zeenews]
"The intelligence inputs indicated that the recovered gold bars carrying foreign markings had been smuggled into India from Myanmar through the international land border at Moreh in Manipur."
Gold pioneer William Tipple Smith finally gets a headstone at heritage-listed Rookwood Cemetery - [ABC]
This abandoned East African city once controlled the medieval gold trade - [National Geographic]
"A product of African, Arabian, and Persian cultures, Kilwa was an economic powerhouse that oversaw the flow of gold from its place on the Swahili Coast."
Gold-backed Cryptocurrency News

News related to gold-backed cryptocurrencies:
Why buying gold with Bitcoin is a better alternative to gold-backed cryptocurrency - [Goldscape]
Are gold-backed stablecoins the new cryptocurrency standard? - [Hackernoon]
WhiteBIT exchange lists AurusGOLD – new AWG:USD trading pair available - [Cryptomode]
---
Gold News by Goldscape.net is a weekly newsletter for gold and gold-backed cryptocurrency news.
Visit Goldscape.net to buy gold online.
For advertising and news submission requests, contact us.
If someone sent this to you, sign up for free updates at goldnews.substack.com.