Discover more from Gold Weekly
A brief summary of the most important gold news and analysis every week.
Over 1,000 subscribers
Gold News: 29 May, 2020
Gold Price: $1729.57. Gold may reach a record by year end, $US2,000/oz gold price is likely, and a gold-coated hotel.
Gold and gold-backed cryptocurrency news for the week ending 29 May, 2020.
Gold Price (USD/OZ)
29 May 2020: $1729.57 [View live gold price.]
Change from last week: -$7.10 (-0.41%)
Gold News Around The Web
Yes, this is a gold bull market - [BullionVault]
In Gold We Trust report - [In Gold We Trust]
"The In Gold We Trust report 2020 has been published!"
Gold may reach a record by year end as investor need creates 'more demand than the market can handle' - [Market Watch]
Here's the real reason gold has been rising - [Bloomberg]
New York gold glut: Traders drown in a problem they helped create - [Al Jazeera]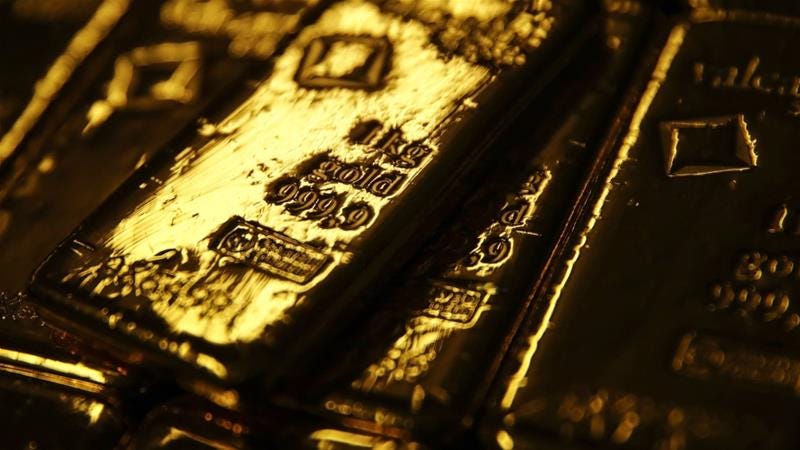 Citibank thinks gradual increase to $US2,000/oz gold price is likely - [Stockhead]
U.S. Bank: 'central-bank money printing should keep gold prices supported' - [Kitco]
You can't just print more gold - [Advisor Perspectives]
Countries went on a gold-buying spree before coronavirus took hold – here's why - [The Conversation]
Will the Fed trigger inflation this time, boosting gold? - [FX Empire]
JPMorgan: Surging gold prices reflect lack of confidence in central bank currencies - [Crypto Globe]
Ghana's industrial gold output rose 6% in 2019 - [Reuters]
A lost struggle to mine Afghan gold - [Financial Times]
"Venture set up by investment banker Ian Hannam runs out of funds."
World's deepest gold mine shut down due to COVID-19 - [Anadolu Agency]
Vietnam's capital city builds the world's first gold-coated hotel - [Vietnam Insider]
Advertisement

Global Gold is precious metals company from Switzerland that offer a safe and convenient way of buying and selling gold, silver, platinum and palladium. All metals can be safely delivered or securely stored in high-security vaults of your choice in Switzerland, Singapore, Hong Kong, and New Zealand.
Gold-backed Crypto News
News related to gold-backed cryptocurrencies:
Exclusive listing of AWG on CBX - [CBX]
"CBX will partner with Aurus, for the launch of its Gold-backed Token AWG."
Metex Exchange lists Gold Standard and Silver Standard - [Metex]
Bitcoin Suisse users can now trade gold and silver against Bitcoin and Ether - [Coin Telegraph]
A first: cryptoassets and gold in EU benchmark compliant index - [Securities]
---
Gold News by Goldscape.net is a weekly newsletter for gold and gold-backed cryptocurrency news.
Visit Goldscape.net to buy gold online.
For advertising and news submission requests, contact us.
If someone sent this to you, you can sign up for free at goldnews.substack.com.