Discover more from Gold Weekly
A brief summary of the most important gold news and analysis every week.
Over 1,000 subscribers
Gold News: 28 August, 2020
Gold Price: $1946.34. Forecasts: $3,000, $5,500. News: How long can the gold rally last? Upward gold price trajectory to accelerate, $5,000 gold could soon become a reality.
Gold and gold-backed cryptocurrency news for the week ending 28 August, 2020.
Gold Price (USD/OZ)
28 August 2020: $1946.34 [View live gold price.]
Change from last week: $7.20 (0.37%)
View the complete archive of gold price forecasts.
Buy Gold In Switzerland

Global Gold is precious metals company from Switzerland that offer a safe and convenient way of buying and selling gold, silver, platinum and palladium. All metals can be safely delivered or securely stored in high-security vaults of your choice in Switzerland, Singapore, Hong Kong, and New Zealand. [Goldscape.net Partner]
Gold News
Hate gold, love gold miners - [BullionVault]
"Well, Buffett likes Barrick at least..."
Which central banks are buying gold this year? - [Kitco]
Gold to see a lengthy pause before resuming the core bull trend – Credit Suisse - [FX Street]
Gold price might be dropping from the megaphone top - [FX Empire]
Gold is bigger bubble than tech, says $63 billion asset manager - [Bloomberg]
"Carillon Tower Advisers Inc. portfolio specialist Matt Orton is a rare critic when it comes to gold's meteoric rise this year. He says excitement around the metal has made it a bigger bubble than tech stocks."
How long can the gold rally last? - [Forbes]
Why $5000 gold could soon become a reality - [Yahoo! Finance]
Gold at $3,000? 'Upward gold price trajectory to accelerate' - Bloomberg Intelligence - [Kitco]
"There is a good chance for gold to even reach $3,000 an ounce during this bull run, according to Bloomberg Intelligence charts."
Chris Wood sees another 180% run-up in gold price to $5500 per ounce
"Chris Wood, global head of equity strategy at Jefferies, has turned even more bullish on the precious yellow metal gold and sees it to scale to $5500 per oz, which is almost 180% higher than its current trending price level. Earlier, he expected the metal to hit a price of $4200 per ounce."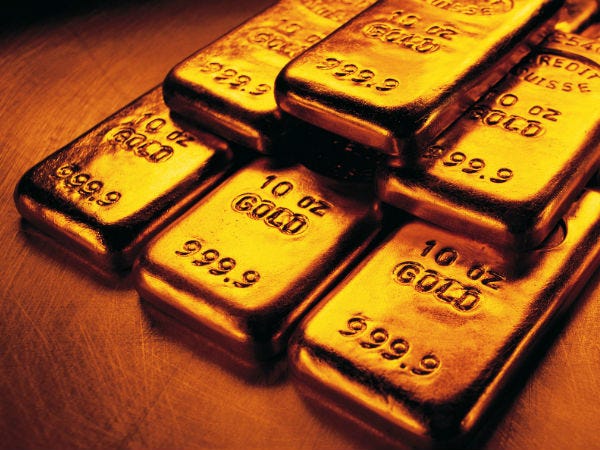 Top 10 countries with largest gold reserves - [Mining]
Ghana's main opposition will stop gold fund if it wins vote - [Bloomberg]
An animated look at the gold supply chain - [Goldhub]
Trove of 1,000-year-old gold coins unearthed in Israel - [Reuters]
Gold-backed Cryptocurrency News

News related to gold-backed cryptocurrencies:
Binance exchange to list Paxos' gold-backed cryptocurrency - [coindesk]
As gold prices soar, two gold-backed tokens see increased demand fetching premiums - [Bitcoin]
---
Gold News by Goldscape.net is a weekly newsletter for gold and gold-backed cryptocurrency news.
Visit Goldscape.net to buy gold online.
For advertising and news submission requests, contact us.
If someone sent this to you, sign up for free updates at goldnews.substack.com.