Discover more from Gold Weekly
A brief summary of the most important gold news and analysis every week.
Over 1,000 subscribers
Gold News: 24 July, 2020
Gold Price: $1892.94. Gold prices reach highest level since 2011 and near record, traders set their eyes on $2,000.
Gold and gold-backed cryptocurrency news for the week ending 24 July, 2020.
Gold Price (USD/OZ)
24 July 2020: $1892.94 [View live gold price.]
Change from last week: $92.89 (5.16%)
Buy Gold In Switzerland

Global Gold is precious metals company from Switzerland that offer a safe and convenient way of buying and selling gold, silver, platinum and palladium. All metals can be safely delivered or securely stored in high-security vaults of your choice in Switzerland, Singapore, Hong Kong, and New Zealand. [Goldscape.net Partner]
Gold News Around The Web
Get your gold before the reset - [BullionVault]
Gold prices reach highest level since 2011 and near record as investors flood safe havens - [Markets Insider]
Gold shatters 'summer doldrums' as it climbs to record territory - [Market Watch]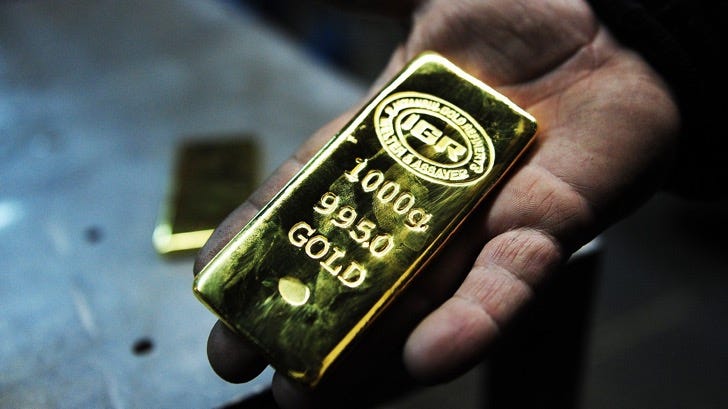 Citi says it's 'only a matter of time' before gold hits record - [Bloomberg]
Gold to challenge the $1921.50 2011 high – Commerzbank - [FX Street]
Gold traders set their eyes on $2,000, more stimulus packages, U.S debts, and inflation boost gold - [Yahoo! Finance]
Gold has surged due to the pandemic — and it could keep going. Here's what to know about investing now - [CNBC]
Turkey scrambles for gold, overtaking Russia as top buyer - [Asia Nikkei]
"Ankara's frictions with Washington fuel mad dash for the dollar alternative."
Super rich Russian battles Chinese rival in the hunt for African gold - [Forbes]
"If anyone doubts the universal lure of gold as its price nears an all-time high then consider a China vs. Russia takeover battle for an African gold deposit controlled by an Australian mining company."
Illegal miners chase dreams of gold in central Vietnam - [VN Express]
The impact of COVID-19 shutdowns on the gold supply chain - [Visual Capitalist]
Gold-backed Crypto News
News related to gold-backed cryptocurrencies:
As spot gold surges higher, Tether's gold token lags behind - [Crypto News]
Digix partners with Axie Infinity to bring real gold in-game - [European Gaming]
"First of its kind partnership will enable players to receive in-game gold through Axie-DGX tokens that will be redeemable for physical, investment grade gold."
---
Gold News by Goldscape.net is a weekly newsletter for gold and gold-backed cryptocurrency news.
Visit Goldscape.net to buy gold online.
For advertising and news submission requests, contact us.
If someone sent this to you, sign up for free updates at goldnews.substack.com.