Discover more from Gold Weekly
A brief summary of the most important gold news and analysis every week.
Over 1,000 subscribers
Gold News: 22 May, 2020
Gold Price: $1736.67. Gold prices rally to near eight-year high, a new record high is expected.
Gold and gold-backed cryptocurrency news for the week ending 22 May, 2020.
Gold Price (USD/OZ)
22 May 2020: $1736.67 [View live gold price.]
Change from last week: $0.36 (0.02%)
Gold News Around The Web
Growth at any cost under gold - [BullionVault]
Gold prices rally to near eight-year high - [Bangkok Post]
Gold: A new record high is expected – Credit Suisse - [FX Street]
Venezuela sues Bank of England for access to $1 billion in gold reserves - [Mining]
Stashing some gold? Here's why that could soon be illegal, according to one notable hedge-fund bear - [Market Watch]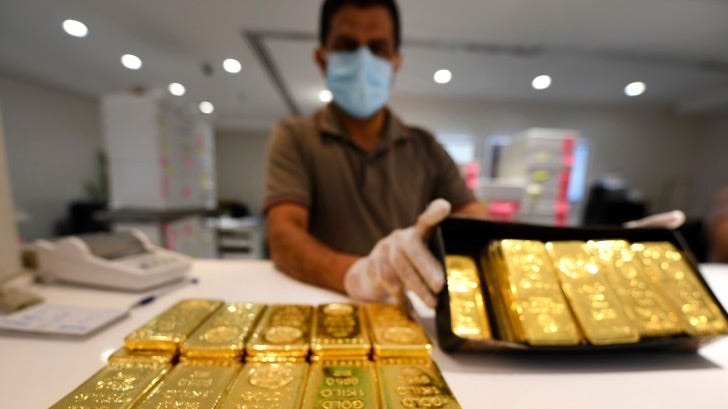 Four reasons gold is going to $US2000 - [Australian Financial Review]
'Extreme volatility' ahead for gold: Next 10 years to see 'never really imagined' price levels — Digix co-founder - [Kitco]
Australian mints experience huge surge in gold demand due to economic uncertainty from coronavirus - [Canberra Times]
UAE combats coronavirus: 'Dubai will remain the city of gold' - [Khaleej Times]
How the US government seized all citizens' gold in 1930s - [The Conversation]
Advertisement

Global Gold is precious metals company from Switzerland that offer a safe and convenient way of buying and selling gold, silver, platinum and palladium. All metals can be safely delivered or securely stored in high-security vaults of your choice in Switzerland, Singapore, Hong Kong, and New Zealand.
Gold-backed Crypto News
News related to gold-backed cryptocurrencies:
Trump's Fed Nominee Advocates a Gold-Backed Currency, Even a Crypto One - [Coin Telegraph]
"Judy Shelton, President Trump's nominee for the Federal Reserve board of governors, has advocated for getting back to a gold standard, possibly "in a very cryptocurrency way.""
What are gold-backed tokens and should you invest in tokenized gold? - [Bitcoin Market Journal]
---
Gold News by Goldscape.net is a weekly newsletter for gold and gold-backed cryptocurrency news.
Visit Goldscape.net to buy gold online.
For advertising and news submission requests, contact us.
If someone sent this to you, you can sign up for free at goldnews.substack.com.