Discover more from Gold Weekly
A brief summary of the most important gold news and analysis every week.
Over 1,000 subscribers
Gold News: 2 October, 2020
Gold Price: $1,909.33. Forecasts: $2,000. News: Gold climbs above $1,900 again, UBS says you should buy gold now, central banks buying gold again.
Gold and gold-backed cryptocurrency news for the week ending 2 October, 2020.
Gold Price (USD/OZ)
2 October 2020: $1,909.33 [View live gold price.]
Change from last week: $48.17 (2.59%)
View the complete archive of gold price forecasts.
Buy Gold In Switzerland

Global Gold is precious metals company from Switzerland that offer a safe and convenient way of buying and selling gold, silver, platinum and palladium. All metals can be safely delivered or securely stored in high-security vaults of your choice in Switzerland, Singapore, Hong Kong, and New Zealand. [Goldscape.net Partner]
Gold News
Central-bank gold buying -40% in 2020 - [BullionVault]
Gold price climbs above $1,900 again as political debate delays second US stimulus check - [Vaultoro]
Gold buying by central banks seen climbing from near decade low – Bloomberg - [FX Street]
Gold price to end the year at $2,000 – Capital Economics - [Kitco]
UBS says you should buy gold now - [CNBC]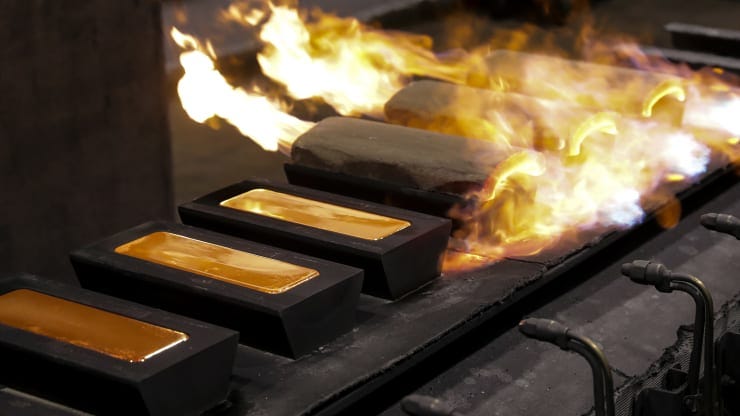 Gold not to see new highs until 2021 – Credit Suisse - [FX Street]
Gold, the great reset: world leaders are getting ready to reset the world economy - [Seeking Alpha]
Is another gold run on the horizon? - [Oil Price]
Two ex-Deutsche Bank traders found guilty of spoofing gold and silver markets - [Markets Insider]
We're a long, long way from running out of gold - [Bloomberg]
Scotland's first commercial gold mine to open in November - [Mining]
Peru's 'Wonder Woman' battles illegal gold mining in the Amazon - [Thomson Reuters Foundation]
There's too much gold in the universe. No one knows where it came from. - [Live Science]
"Something is showering gold across the universe. But no one knows what it is."
Gold-backed Cryptocurrency News

News related to gold-backed cryptocurrencies:
CACHE Gold co-founder Brian Hankey on why precious metal needs tokenization - [Insider Monkey]
---
Gold News by Goldscape.net is a weekly newsletter for gold and gold-backed cryptocurrency news.
Visit Goldscape.net to buy gold online.
For advertising and news submission requests, contact us.
If someone sent this to you, sign up for free updates at goldnews.substack.com.