Discover more from Gold Weekly
A brief summary of the most important gold news and analysis every week.
Over 1,000 subscribers
Gold News: 19 June, 2020
Gold Price: $1731.38. The global gold market is breaking up, gold price predictions from $2000 to $5000, and gold on a train.
Gold and gold-backed cryptocurrency news for the week ending 19 June, 2020.
Gold Price (USD/OZ)
19 June 2020: $1731.38 [View live gold price.]
Change from last week: -$4.50 (-0.26%)
Gold News Around The Web
Gold bull market for HUI miners too? - [BullionVault]
FT's John Dizard: The global gold market is breaking up - [GATA]
"Gold, the universal currency and store of value, is being de-globalised. Mocatta, long the largest gold bullion dealer, is being unwound and shut down by Scotiabank. JPMorgan, the leading US bullion bank, is ever more reluctant and slow to take on new counterparties."
Goldman Sachs raises 12-month gold price forecast to $2,000 - [FX Street]
Why gold won't breach $2,000 soon; don't get burned by this trading mistake - [Kitco]
Gold prices could hit $5000 and beyond amid major macroeconomic headwinds - [IG]
$37 billion gold project spend needed by 2025 - [Mining]
Resource-poor Japan unearths metal riches in its trash - [Nikkei Asian Review]
"Nation's discarded electronics seen to contain more gold than South African deposits."
Banks have moved gold trading from New York to London, LBMA says - [Bloomberg]
U.S. attracts record amount of gold from Switzerland as pandemic upends market - [Yahoo! Finance]
Russia's gold production growth to overtake China's in less than 10 years - Fitch Solutions - [Markets Insider]
This is why the world's elite is snatching up gold - [The Market Herald]
Perth Mint stops taking artisanal gold after child labour allegations - [WA Today]
Forget diamonds, the new conflict commodity is gold - [Forbes]
Kairos doubles down on Pilbara gold ground - [The West Australian]
Swiss police looking for owner of gold bars worth US$190,000 left on train - [SCMP]
"The bars were found in a package on a train that arrived in the central city of Luzern last October."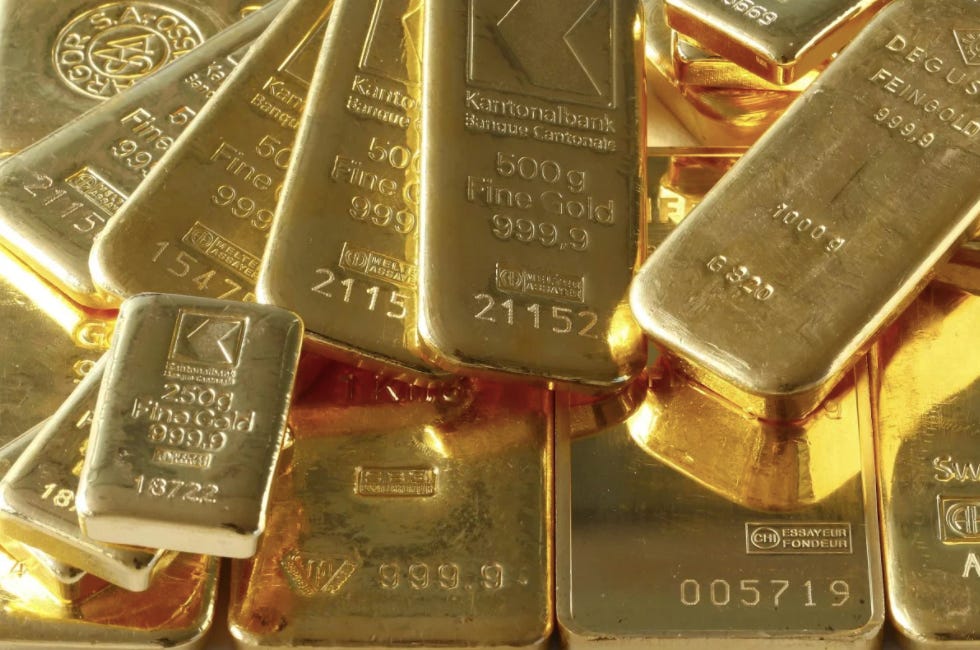 George III £1m gold watch star of Sotheby's collection sell-off - [The Guardian]
Advertisement

Global Gold is precious metals company from Switzerland that offer a safe and convenient way of buying and selling gold, silver, platinum and palladium. All metals can be safely delivered or securely stored in high-security vaults of your choice in Switzerland, Singapore, Hong Kong, and New Zealand.
Gold-backed Crypto News
News related to gold-backed cryptocurrencies:
Exclusive: Dash cryptocurrency is now backed by gold - [CryptoDaily]
---
Gold News by Goldscape.net is a weekly newsletter for gold and gold-backed cryptocurrency news.
Visit Goldscape.net to buy gold online.
For advertising and news submission requests, contact us.
If someone sent this to you, you can sign up for free at goldnews.substack.com.