Gold News: 17 July, 2020
Gold Price: $1800.05. Gold at $2000 more likely, hedge fund sees gold at $3000, Russia boosts gold reserves, Indians spending more on gold than on weddings.
Gold and gold-backed cryptocurrency news for the week ending 17 July, 2020.
Gold Price (USD/OZ)
17 July 2020: $1,800.05 [View live gold price.]
Change from last week: -$1.49 (-0.08%)
Buy Gold In Switzerland

Global Gold is precious metals company from Switzerland that offer a safe and convenient way of buying and selling gold, silver, platinum and palladium. All metals can be safely delivered or securely stored in high-security vaults of your choice in Switzerland, Singapore, Hong Kong, and New Zealand. [Goldscape.net Partner]
Gold News Around The Web
India gold price boosted as lockdown hits smuggling - [BullionVault]
What if gold does go to $5,000 or $10,000? - [Kitco]
"With gold hitting nine-year highs this month—and staying above $1,800—readers are asking for guidance on what to do if gold not only reaches new nominal highs, but blows by $2,000 and keeps going. What if it really does go to $5,000 an ounce, $10,000… or higher?"
Doomsday hedge fund sees gold topping $3,000 an ounce - [Bloomberg]
Gold at $2,000 is now even more likely, Goldman says. Here's how to trade the commodities recovery. - [Barrons]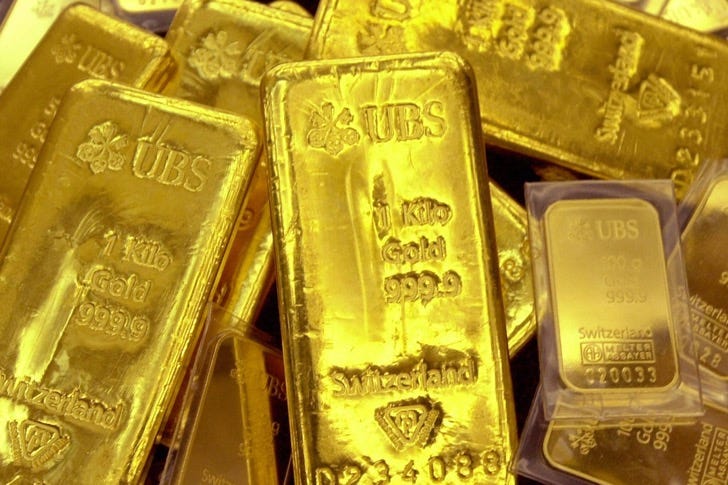 Precious metal: the gold-standard investment when a crisis hits? - [The Guardian]
"Fuelled by low interest rates and the prospect of a recession, gold has hit record highs. So is it worth buying now?"
Inflation is up – and so is gold - [FX Empire]
The gold rally is approaching a speed bump - [Seeking Alpha]
Invesco launches GBP-hedged version of $11.8bn physical gold ETC - [ETF Strategy]
Russia continues to boost gold reserves, adds further $2.7 bln to int'l assets - [Sputnik News]
Russia sells more gold than gas for the first time in 30 years - [Economic Times]
Nigeria to boost gold mining sector - [Anadolu Agency]
"250,000 people to be employed as Nigeria set to make $500M in annual revenue through gold mining."
Horizon Minerals is about to be Australia's newest gold producer - [Stockhead]
Indians are buying more gold from the money they would otherwise have spent on big fat weddings - [Business Insider]
Gold smuggler arrested on Sino-North Korean border - [Daily NK]
"Two mines run by trading companies under the Central Committee and MSS in South Pyongan Province are at the top of the list of suspected sources of the gold."
Gold-backed Crypto News
News related to gold-backed cryptocurrencies:
Precious metal stablecoin plugs into gold frenzy
---
Gold News by Goldscape.net is a weekly newsletter for gold and gold-backed cryptocurrency news.
Visit Goldscape.net to buy gold online.
For advertising and news submission requests, contact us.
If someone sent this to you, sign up for free updates at goldnews.substack.com.