Discover more from Gold Weekly
A brief summary of the most important gold news and analysis every week.
Over 1,000 subscribers
Gold News: 15 May, 2020
Gold Price: $1736.31. Gold has a clear path towards $2,000+/oz, $3,000 price level could happen.
Gold and gold-backed cryptocurrency news for the week ending 15 May, 2020.
Gold Price (USD/OZ)
15 May 2020: $1736.31 [View live gold price.]
Change from last week: $16.89 (0.98%)
Gold News Around The Web
A good crisis for gold - [BullionVault]
"Do I hear $2000...$5000...even more? How about $2000, $5000 or even Jim Rickard's $50,000 as the next target for gold?"
Gold has a clear path towards $2,000+/oz –  TD Securities - [FX Street]
Gold, the sleeping giant: $3,000 price level could happen - [Kitco]
Gold price forecast – Prices could exceed $10,000 this decade - [FX Empire]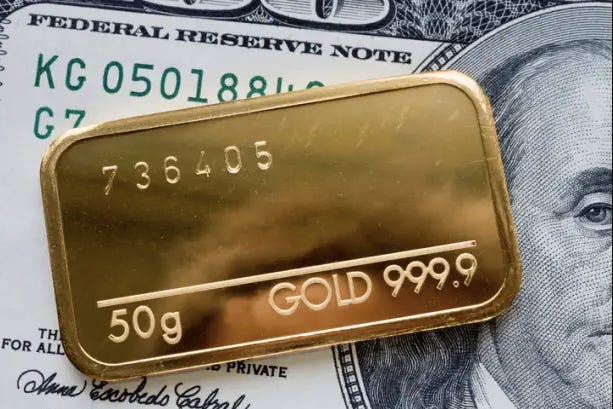 How to play the next big rally in gold - [Oilprice]
Gold is breaking out - Here's the trade - [The Street]
What makes Jim Rogers extremely bullish on gold & silver? - [India Times]
Central banks may be forced to sell gold; India at risk: Chris Wood - [Business Standard]
Australia to overtake China as world's largest gold producer: Resources Monitor - [Australian Mining]
"Why I'm bullish on gold" - [Morningstar]
"VIDEO: As investors look for safety, Ned Naylor-Leyland, manager of the Merian Gold & Silver fund, is optimistic on the outlook for precious metals."
Investors need gold as a security blanket - [South China Morning Post]
"A yellow metal that once embodied magical properties is still in demand today thanks to uncertainty and inflation fears arising from quantitative easing."
Advertisement

Global Gold is precious metals company from Switzerland that offer a safe and convenient way of buying and selling gold, silver, platinum and palladium. All metals can be safely delivered or securely stored in high-security vaults of your choice in Switzerland, Singapore, Hong Kong, and New Zealand.
Gold-backed Crypto News
News related to gold-backed cryptocurrencies:
Celsius targets new users with tokenized gold and commodities - [Coin Telegraph]
"Alex Mashinsky revealed Celsius plans to list more tokenized commodities after launching support for Tether gold last week."
Latest listings added to the directory
One CACHE Gold token is equivalent to one gram of gold. Each token is backed by physical gold securely stored in a vault. All gold is audited, and insured. Gold backing CACHE Gold tokens is publicly verifiable at any time, simply visit the CACHE Explorer to verify CACHE Gold's backing.
USGold (USG) are fully collateralized 1:1 with American Gold Eagle coins. Held in trust and redeemable anytime at redeemusg.com.
Exchanges with USG can be found at buyusgold.com/purchase.
---
Gold News by Goldscape.net is a weekly newsletter for gold and gold-backed cryptocurrency news.
Visit Goldscape.net to buy gold online.
For advertising and news submission requests, contact us.
If someone sent this to you, you can sign up for free at goldnews.substack.com.