Discover more from Gold Weekly
A brief summary of the most important gold news and analysis every week.
Over 1,000 subscribers
Gold News: 10 July, 2020
Gold Price: $1801.54. Gold's perfect $2,000 storm, $2,000 in 2021, hold more gold than Bitcoin, more on the fake gold bars in China, gold smuggling in India.
Gold and gold-backed cryptocurrency news for the week ending 10 July, 2020.
Gold Price (USD/OZ)
10 July 2020: $1,801.54 [View live gold price.]
Change from last week: $25.78 (1.45%)
Gold News Around The Web
Gold's perfect $2,000 storm - [BullionVault]
"Ready for new record high...?"
Gold leaps above $1,800 for the first time since 2011 as traders pile into the popular safe haven - [Business Insider]
Why gold has become a 'weapon of choice' for investors - [Market Watch]
Gold-hungry investors drive ETF stockpile to new record in June - [Reuters]
Gold prices to hit $2,000 in 2021 - ABN AMRO - [Kitco]
Explainer | How Kingold Jewelry's fake gold bars slipped through scrutiny in one of China's biggest loan scams
"Kingold Jewelry allegedly passed off gilded copper bars as collateral for US$2.8 billion of loans."
Hold more gold than Bitcoin, says BTC bull Mike Novogratz - [Coin Telegraph]
Gold is the 'real bitcoin': Trader sees new highs ahead for the metal - [CNBC]
India gold smuggling case sparks political row - [BBC]
"A political row has broken out in India after gold was found being smuggled into the country in diplomatic baggage."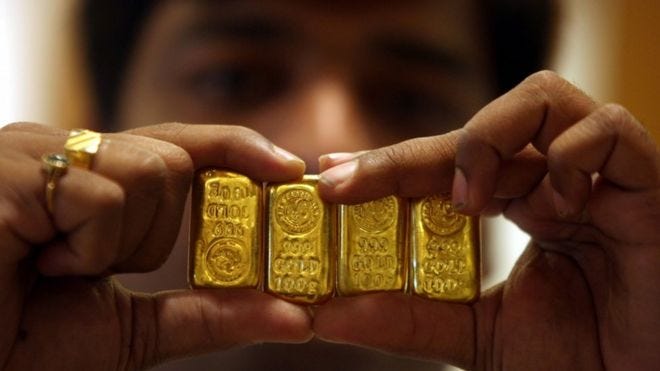 Indians repatriated from Saudi, UAE held with Dh7.7 million worth of gold - [Khaleej Times]
In a remote area of Papua, a box of instant noodles costs 2 grams of gold - [The Jakarta Post]
From Tubs to Toilets, Vietnam Hotel Opens With Gold-Plated Pizzazz - [New York Times]
Pune man wears mask made of gold worth nearly Rs. 3 Lakh - [NDTV]
Advertisement

Global Gold is precious metals company from Switzerland that offer a safe and convenient way of buying and selling gold, silver, platinum and palladium. All metals can be safely delivered or securely stored in high-security vaults of your choice in Switzerland, Singapore, Hong Kong, and New Zealand.
Gold-backed Crypto News
News related to gold-backed cryptocurrencies:
E-Gold claims US officials buried key report in 2008 landmark crypto ruling - [CoinDesk]
"A defunct digital currency project that was a precursor to bitcoin has claimed the U.S. government suppressed crucial evidence in a 2008 landmark case that has since shaped the cryptocurrency industry."
---
Gold News by Goldscape.net is a weekly newsletter for gold and gold-backed cryptocurrency news.
Visit Goldscape.net to buy gold online.
For advertising and news submission requests, contact us.
If someone sent this to you, you can sign up for free at goldnews.substack.com.